MSU students find success 84,000 feet above Earth
April 25, 2014 — By Evelyn Boswell Source http://www.montana.edu/news/12617/msu-students-find-success-84-000-feet-above-earth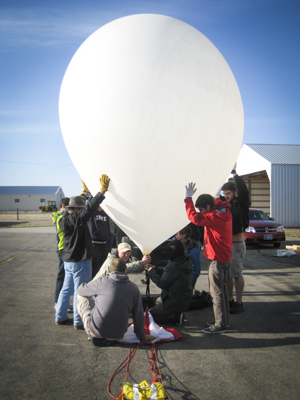 BOZEMAN – Montana State University students have found a way to gather more information from the edge of space, a historic feat they plan to share with students across the country, according to officials with the Montana Space Grant Consortium.
The accomplishment that could result in a nation-wide study of a solar eclipse proved itself when students launched a high-altitude helium weather balloon from the Harlowton Airport on April 19, said Berk Knighton, flight director for the consortium's BOREALIS program.
As high-altitude, helium-filled weather balloons rise, they expand as air pressure decreases. A latex weather balloon the size of a Volkswagen Beetle on the ground can stretch to the size of a small house at 100,000 feet. When the balloon eventually pops, the scientific instruments it carries plummet back to Earth where they are retrieved and their data extracted. Until the MSU student innovations, there was no way to make a balloon "hover" in the atmosphere. For the scientific instruments onboard, it was a quick trip up and a quick trip down.
Now, because of the student-built valve that releases helium, balloons won't pop automatically as they near the upper limits of the Earth's atmosphere. Instead, the balloons will hover at an altitude of the students' choosing. The balloon that was launched from Harlowton hovered at an altitude of 84,000 feet for 15 minutes and could have gone much longer, Knighton said. Because of student-designed computer systems, the students told the balloon how long and high to fly before commanding a tiny tethered dart to pop the latex.
"We believe this is the first time that a student-designed device of this type was used to achieve float," Knighton said.
The MSU achievement will allow students to conduct new experiments because they will have more time to collect data from the near-space environment, Knighton said. At 84,000 feet, MSU's balloon was above 98 percent of the Earth's atmosphere. MSU students typically use latex weather balloons to gather information about such things as radiation, temperature and pressure.
"That's the cool thing now," Knighton said. "We can take our normal weather balloons and extend the time aloft, so we can conduct more interesting experiments."
A big goal now is for the Montana Space Grant Consortium to work with consortiums in Hawaii and Colorado to coordinate a nation-wide study of a total solar eclipse that will occur in 2017, Knighton said. Because of the recent discovery in Montana, participants would use high-altitude weather balloons to gather information about the eclipse.
The Harlowton demonstration tested work conducted by 38 students over the past year, said Randy Larimer, deputy director of the Montana Space Grant Consortium. Key students were Tim Basta, Scott Miller, Nichole Murray and Jameson Motley.
Basta, a junior from Great Falls and a mechanical engineering major, designed and built the valve that released helium. He built on work that was started by Murray, a mechanical engineering major from Bozeman. High-altitude projects are incredibly challenging, he said, adding that participants have to consider everything from cost to temperature fluctuations.
Miller, a junior from Kalispell and a computer engineering major, designed the software and hardware that allowed the students to track the balloon by satellite, send commands to the valve and balloon, and interpret the data. Miller took over his portion of the project from Motley of Kalispell, a mechanical engineering major who graduated in the fall.
"It's really been fun," said Miller, adding that the early morning trip to Harlowton gave him his first view of the sunrise this year.
A dozen MSU students, as well as Knighton and Larimer, drove to Harlowton for the 8:30 a.m. launch. Shortly before 11 a.m., feeling they had proved what they had set out to do, they popped the balloon, jumped in the air and gave each other high-fives. Then, following GPS signals for the balloon, they drove about 20 miles and asked Matt McAndrews of Ryegate if they could hike through his pasture. About a mile later, after a relatively easy trek compared to others they've made to recover balloons, they retrieved their balloon near Deadman's Basin Reservoir.
"Everything went right," Miller said. "Everything just worked right. There were no issues, which occasionally there can be. All the commands worked."
The balloon project was another high point in their experience with the Montana Space Grant Consortium, according to Miller and Basta. Both were members of winning teams in the 2013 National Student Solar Spectrograph Competition, which was organized by the MSGC, so they traveled to the Kennedy Space Center in November to watch the launch of the MAVEN mission to Mars.
The balloon launch illustrated another opportunity the Montana Space Grant Consortium gives students to apply what they learned in the classroom, Basta said.
"BOREALIS has really been a nice theater to put book learning into practice," Basta said, referring to MSU's high-altitude balloon program which was founded in 2001.
As part of the Montana Space Grant Consortium, BOREALIS allows students from a variety of disciplines to work together to design and build payloads that are flown up to 100,000 feet in the near-space environment. Basta has been involved in the program since the beginning of his sophomore year.
"It's definitely expanded my knowledge of other fields of engineering," Basta said. "It's a unique experience where you get to work on a design team similar to what an engineer would do in an actual workplace."
Evelyn Boswell, (406) 994-5135 or evelynb@montana.edu